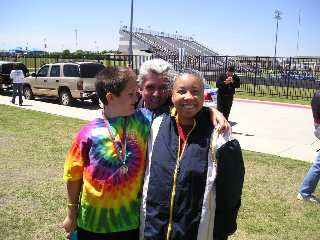 My nephew Blaze, husband Dennis, and myself in Wylie, Texas at the Special Olympics Games held at Wylie High School. 5/3/08
WELCOME TO STOMER CREATIONS
Keeping the name alive. True happiness is sharing music with others.
Greetings to everyone.
Welcome to my website. I am glad you came to visit. My name is Mary Catherine Stomer McGregor. Stomer is my family name from generations back. It is of German origin I have discovered. So here you have it; Stomer Creations.
I am a songwriter. I love to sing. I have loved music all of my life. I remember growing up and hearing my grandparents sing hymns all day long and I would sing with them and experience so much joy.
As I approached puberty I started creating poems and short stories in my head and I would write them down. As I approached high school I was really into writing whatever popped into my head,whether silly or serious stuff! I remember that my cousin, soul/r&b artist Samona Cooke, was very encouraging and told me never to give up my dreams! To always strive to reach and keep the music alive in me and share it with others. Well, as I got older, more family responsibility was required of me to care for my grandparents who were very old and in failing health.
Also I was trying to finish college. So the writing was put on hold to care for them. They both died and during this time I was working in the health care profession and establishing my career in nutrition. Now, 20 years later I am at the cross roads of life for the next level. Samona, I always kept the music safe in my heart. I am fulfilling my dreams of music and education. I am attending Grand Canyon Univesity, majoring in Elementary Education. Working with children is the most rewarding experience I have encountered. And sharing music with them is so special. It really is TRUE HAPPINESS!
Below are 16 songs, with more to come. These songs come from life experiences, tragedies and wonderful people who have been a positive force in my life.
The first song I wrote was "It's All About Love" after a wonderful Baha'i Conference I attended in 2001 in Milwaukee, Wisconsin.
The second song I wrote was "The Window"; about nature.
The third is "Sonia's BBW"; a tribute to my friend Sonia's independent bookstore.
The fourth one is "My Bones"; about a conversation with my arthritis.
The fifth is "A Gift For My Love"; a love song.
The sixth one is "Carasmatic Ladies"; a tribute to Irene Cara & Sandra Kaye for their encouragement in my endeavors and the gift of their friendship. Thank you ladies! I rewrote this song as "Carasmatic Lady" special for Irene and sent the song to her for Christmas in 2002. Check my music page to view some of the songs. Just click on the button to the left at the top of this page.
The seventh is "Trippin Out"; about a memorable vacation I took and would really like to take again but plan a little better in advance.
The eigth song is "You Live and You Learn"; about survival in life's challenges.
The ninth song is "Your Face"; about outward appearances vs. an inner struggle.
The tenth song is "Today"; about the state to the world and it's advancement to peace.
The eleventh song is "Seven in The Sky"; a tribute to the fallen seven from the space shuttle "Columbia".
The twelfth song is "Here We Go Again"; about the disorder of things around us.
The thirteenth song is "Not My Own"; about the joy of teaching.
The fourteenth song is "Give Me Education"; a special song written for my students per request of their mom.
The fifteenth song is "The Bird"; a song of faith and freedom.
The sixteenth song is "The Ruler and The Servant"; a song of submission.
The seventeenth song is "Working in the Classroom"; a children's song.
So you see I have been busy!
I am Montessori trained thru the Dallas Montessori Academy. I received my Associate Early Childhood Credential in June 2004. Visit Dallas Montessori Academy at www.dallasmontessori.com