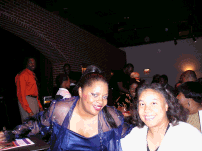 R & B/JAZZ ARTIST SARAH DASH & I

BLACK ACADEMY OF ARTS & LETTERS-MAY 2003

Artisan Recording Studio: For quality recording needs.
www.artisan-recordingstudio.com
Baha'i Faith: Learn about the Glory of God.
Arlington Jones:Jazz music with a twist! Check him out!
Antonio Fargas:(Huggy Bear) from Starsky & Hutch TV series.


Irene Cara: This is an exceptional musician. Check out her new company: Caramel Productions.
National Council of Negro Women, Inc. Commitment....Unity....Self-Reliance
Women In the Arts: Growth.....Knowledge.....Empowerment http://wiaonline.org
Feel the music of Ms. Audrey Martell
Billy Vera: At this Moment
Rick Stitzel: Check out my music teacher, a cool jazz man. http://www.rickstitzelmusic.com
Embrace the World with Leonor Dely & her Africaribbean latin fusion group MillergoCongo
http://bahai-library.org/bafa/d/delyl.htm
THE LIGHT COMBO HAS ARRIVED. CHECK THEM OUT AT
Welcome to Our House! Your Home For Educational Music. Visit Stephen Fite at www.melodyhousemusic.com
Mr. Leo Key- Blues Artist www.cdbaby.com/leokey
R&B Artist Samona Cooke- Find her music at http://gemm.com/q.cgi?wild=Samona+Cooke&rb=DISCOMUSIC&Go=Go

Miss Sandra Kaye
Sandra has an awesome website with lots of neat photos and info on her career

Cherie Mitchell: This lady can JAM!!!!!!!! Witness her creativity at....
http://www.sweetcherie.com
"I'm gonna live forever. Baby remember my name! Remember, remember, remember"....Do you remember their names and faces? And the impact this motion picture had on our modern culture? It's 1980 again and forever. Reminiscence is www.fameforever.com ENJOY Pam Rosenthal's cool website!!!!!!!!
This is a GREAT getaway. And the hosts are really cool! Thanks Robert & Warren for all you do.
The incredible Denise Vasi shines on All My Children as Randi Morgan. http://www.officialdenisevasi.com
Renee Elise Goldsberry
http://us.imdb.com/name/nm0325989
Charasmatic Tika Sumpter AKA Layla Williamson
http://s7.zetaboards.com/TalkAboutTika/login
Sexy David Fumero AKA Cristian Vega
http://z9.invisionfree.com/The_Loft/index.php?
http://www.fansoffumero.net (THE LOFT)
The Amazingly Talented Kathy Brier
I met this young lady at the Women In Jazz Concert presented by the Fort Worth Jazz Society in 2003. She is a dynamic performer. Her name is Denise Lee. Learn more about her below.