Here We Go
My day started early, around 8:30am, headed to Houston to meet Renee and bond with my new friend. We have been pen pals for months and finally came face to face. And what a reunion it was, very spiritual in deed. We are sisters in spirit.
I reached my destination at 1:15pm. When I arrived at the tour gathering Bob Guiney, former star of The Bachelor, and his assistant were doing the price give aways and audience participation games. Finally, Renee came on stage at 2:15 to a round of applause and cheers and did a 40 minute session of dialogue and Q&A with the host and audience.
She was radiant and beautiful in her green top, jeans, and heels. Renee's smile and open arm response to the fans was priceless. Everyone in that section of the mall was beaming with joy.
Renee Speaks
Renee's 3 MAIN POINTS for the viewers/fans are: a) call and/or write to Dena Higley, Frank Valentini, & Brian Frons to express what you like and want to see on the show. Keep it short, positive, and to the point. b) Renee wants her character to get some "LOVE"! It's been 3 years, long over due, and the time is NOW for a change in the relationship department for Evangeline. Renee wants Evangeline to have her own MAN, be a part of a SUPERCOUPLE, whose relationship is stong, spiritual, and healthy. She's ready, and so are her fans. c) The coupling is COMING she enthusiastically said. So don't despair. Stay positive. Evangeline will get her man. Renee hopes the viewers/fans will show positive support for whomever that man is. Remember, it's not reality, it's only a soap.
One important question Renee asked the audience was who they wanted Evangeline coupled with...John, Cristian, or Todd. John received a good response. Cristian received a good response. Todd received some good response also. Renee seemed to be surprised by the audience's reaction to the CrisVan coupling; Cris getting the greatest response of cheers and applause from the audience. So, we shall see what we shall see.
The Wedding
Michael & Marcie will definitely get married next month and Marcie will be singing at her own wedding. Renee wrote a special song to be sung by her character Evangeline at the wedding. So, tune in to hear some beautiful music by these two gifted vocalists.
Renee's POV On John, Natalie, & the Tri
Renee said that her character Evangeline is written totally opposite of herself in regards to the John &Van situation. Renee stated that if she(Renee) were handling John's "demons" and Natalie's disrespectful attitude , she would have told them both where to get OFF! She said she would not take the CRAP that Evangeline has taken from John and Natalie! It (the poop) would fly and it would hit the fan. Renee said she's glad she was removed from the tri. She's had enough TRI-ing to last a life time. She feels the writers are trying to write her like Erica Slezak's character Vicki. An interesting statement from Renee. Think about what she said.
The Hair Concern
Renee talked about her hair concerns. She feels she has to compete with some of the other actresses on the show in regards to her hair maintenance. Renee said Kassie DePaiva (Blair) does her own hair and it always looks gorgeous. Renee said she has a great hair stylist that does her hair every week. But when she comes home to Houston, the wind and humidity causes hair problems for her. Thank goodness for a great stylist.
The Emmy Nomination
Renee is THRILLED about her supporting actress nomination. She told her family that she didn't expect to win, so she said to them "go ahead and purchase your tickets for the show". They jokingly replied they were going to be there anyway because they didn't think she would win either. They didn't want Renee to be too stressed over the excitement of her nomination. Renee said she feels such support from her family, her friends, and her fans. She said the love and support of the fans/friends and family come first to her Emmy win. She knows the support will be there whether she wins or not. But of course she would love to WIN she stated. Renee's mom, dad, brother, and husband will be there to support her.
Audience Q & A
The audience asked Renee questions. Two questions that I thought were interesting and stuck with me were: 1) Who do you like kissing the most, John or Cristian? Renee smiled and answered "to be honest with you, my HUSBAND". Classic answer. Way to go Renee! Keeping it REAL! 2) Why would Evangeline risk her career to help Todd Manning? Renee answered "Evangeline is doing all the WRONG things for the RIGHT reasons". She says Van is not thinking clearly right now. She believes in Todd's innocence. She is fighting for JUSTICE. She fighting to save him.
Fan/Friends Recognition
After she left the stage, she signed CD's, books, and whatever the fans/friends brought to be signed. She also gave away autographed photos. She took pictures with fans/friends and gave wonderful hugs.
My Reflections & Closing Thoughts
Saturday was truly a BLESSED day. All praises go to The Glory of God. I enjoyed 90 minutes of fun and laughter with "THE DIVA"....Renee Elise Goldsberry! I love you REG. You are AWESOME!! I had a great time!! This is Renee's time to receive and enjoyed the FRUITS OF HER LABOR, yet, she made all of us there feel like we were receiving our fruits of labor. Thank you Renee for being YOU!!!!!!!! Many thanks to the friends I've met on the John & Evangeline Yahoo Group Board and the CrisVan Fan Group Board. You all show sincere committment and love for Renee and her character Evangeline Williamson. You inspire me. Special thanks to my sweet partner in life, Dennis, for sharing this special time with me and being my chauffeur to Houston. I will always cherish my time with Renee. She made me feel like she stated in her letter to me, a long lost friend. Until the next time, spirit and peace to all. God Bless.
Mary Catherine Stomer-McGregor
On June 2, 2007, I was invited to a special private breakfast in NYC with Renee. My friend and co-author Stacey was there with me. We had so much fun and we laughed a LOT. We are spiritual sisters for LIFE!!!!!!
Renee & I Renee, Me, & Stacey
Renee's Fan Club President Stacey & I
Debbie O'Connor & I
Renee sings "Beautiful"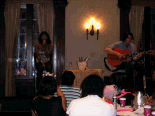 Click on photo to see Renee's live performance in NYC 6-4-07
There is always LIFE after One Life To Live. Check out what Renee is doing now. http://www.soaptownusa.com/Renee2007NYEvent.html
©2004 STOMER CREATIONS All Rights Reserved.